Creation of information security system and attestation of personal data information system
Russian System Integrator, informed about completion of information security system (ISS) and attestation of personal data informational system in the Department of Social Development of Tyumen Region.

The principal objective of the project was meeting the legislative requirements in the field of data protection. The project was carried out in several stages,. At first the complex of security measures was deployed at 2 test grounds.

On the first stage of Information Security System (ISS) project the specialists of the system integrator built a sub-system of of firewalling, cryptographic protection of data transmission channels, access management, integrity control and guaranteed information cleanup.

The equipment of Cisco, VipNet, Secret Net and "Sobol" was used.

There I was no need in another subsystem — antivirus protection. Based on Kaspersky BusinessSpace Security software, it was introduced by the customer even before the beginning of the project is fully operational today.
On the second stage of the project all server stations and working stations of the Department of Social Development were equipped with a system of information protection blocking unauthorized access and electronic locks. The personnel of the customer received consultations on organizational security measures.

The personal date informational system introduced by the Department of Social Development back in 2008 was attested on the basis of K1 supreme class in order to testify its correspondence to personal data security requirements.

The attestation included a program method of attestation activities, conclusions and certificates of correspondence to the information security requirements.

Open Technologies drew its partner, Industrial Espionage Counteractive Laboratory. According to Alexey Lipatov, technical director of Open Technologies information security department, "the peculiarity of this project was an integrated and systematic approach to personal data security, which resulted in meeting all requirements of the Federal Law "On personal data" including the necessary protective technical and organizational measures".

The project envisages further development. The Information Security System will be deployed on 83 sites of the Department of Social Development of Tyumen Region.

Provision of automated information processing systems data security Creation of reserve data processing center
Solutions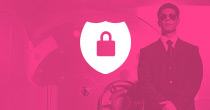 Information Security