Competence Center IBM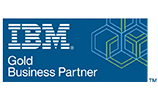 The specialists of IBM Solution Center, created on the basis of Open Technologies' test laboratory help the customers to assess the wide options of IBM software and choose the best configuration for meeting their objectives.
The IBM Solution Center is based on Open Technologies' test laboratory equipped with showcases for various IBM products. The laboratory uses new IBM servers like eServer xSeries and IBM eServer pSeries and software products of IBM WebSphere, IBM Lotus and IBM Tivoli
The laboratory performs complex tests of various IBM software and hardware configurations. The laboratory's equipment allows modeling various situations and branch solutions in order to find the best solution for every problem.
The personnel of Open Technologies hold regular thematic seminars, presentations and demonstrations of various IBM products like WebSphere, IBM Lotus and IBM Tivoli. During such demonstrations the customers learn about various types of portal solutions, platforms for integration of applications, integration of data and business processes, systems of centralized access rights control and single registration of users. (single sign-on).
The Solution Center confirms that Open Technologies has qualified capable of carrying the projects of any degree of complexity.