Creation of data processing center

Client:
TGC-9
August 5, 2008. Open Technologies, Russian system integrator, announced about completion of data processing center in TGC-9 OJSC.

The territorial generating company #9 was created during the reforms of power industry. It encompassed all power generating facilities of Sverdlovsk Region, Perm Territory and the Republic of Komi. TGC-9 includes 30 branches located all over the territory of its operation.

The data processing center was an important part of the company's plans of developing its own IT infrastructure and introduction of business continuity technologies. The tender for building DPC at TGC-9 was won by Open Technologies.

The customer had a number of specific requirements to the project: high indicators of reliability, productivity and life span, centralized control and protection of information during various threats.

During the project the specialists of the system integrator made models of all aspects of DPC constriction. They designed technical architecture, supplied, assembled and commissioned the equipment of software. In its turn the customer provided for engineering equipment of the DPC.

The data processing center is multifunctional software and hardware complex including a server complex, a system of data storage, a system of reserve copying. IT was built with equipment and software of the world' leading producers: Hewlett-Packard (Proliant BL460c andBL860c Blade-servers, Proliant DL 360/380 servers, HP EVA 6000, 4000, Proliant 320s NAS hard drive arrays) and VMWare (ESX Server).

The DPC architecture provides for scalability of solutions, productivity growth due to growth in the number of servers.

The complexity of the project was in extended territorial distribution of the customer. The DPC equipment was installed in 30 branches including such remote destinations as Vorkuta and Inta in the Republic of Komi.

Ultimately, Open Technologies and the customer ended up with highly reliable data processing center providing for the necessary productivity, promptness and failure withstandability of a all information systems of TGC-9 OJSC. The DPC has already beenn commissioned and is successfully operating.

The project took 5 months.

According to Denis Kiriyenko, IT director at TGC-9 OJSC , "the created data processing center will become a core for the reliable IT-services in our company and will assists the operational work of KES-holding subdivisions: (business projects "Generation" and "Energy Trading"). I would like to point to the efforts of Open Technologies' staff, who showed themselves as highly qualifies specialists. Their professionalism and flexible approach to our requests, initiative, ability to find true solutions of technical task and responsibility helped us to meet our objectives ".
Creation of corporative data transfer network Development of local computer network modernization project
Solutions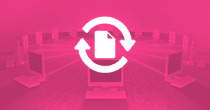 High Performance Computing Systems
Services