Creation of data processing center

Client:
Volga Territorial Generating Company
Open Technologies, Russian system integrator, and Volga Territorial Generating Company OJSC have completed the project of a data processing center.

The Data Processing Center (DPC) was necessary raising the efficiency of business management at the power company by creating a single information infrastructure and launch of modern high-tech solutions. Volga TGC OJSC was meant to become a digital center providing for wholesome functioning and centralized management directly from the head office in Samara using all the company's program complexes. The principal of them is automatic system of managing the company's financial and economic activity based on SAP ERP software.

"The launch of SAP ERP software will help Volga TGC OJSC to reach a new level business management, make the company more dynamic and open shareholders and investors. At the same time it imposed new serious requirements: common information requirement needs centralized service system. The new corporative data processing center will provide for reliable functioning of the existing program complexes of Volga TGC as well as systems that will be launched in the future", pointed out Dmitry Sergiyenko, business director at Volga TGC OJSC.

While creating the data processing center the specialists of Open Technologies designed a server complex and DPC engineering infrastructure; equipment supply, assembly and commissioning; performed the operational testing of DPC components; introduced the customer's representatives to the system, commissioned the DPC. In their turn, the OXS experts, who were carrying out the project of automatic company management on the basis of SAP ERP formulated technical requirements to hardware platform of the system.

The created DPC center is a multifunctional software and hardware complex consisting of a server complex, data storage system, reserve copying system, equipment deployment and physical protection devices, monitoring and access control system, gaseous fire suppression and smoke removal systems, conditioning and ventilation systems, energy saving and continuous power supply systems.

In enables the work of corporative informational systems including product (industrial), testing, training systems (software and hardware complexes) and development system, as well as regular availability of critical resources (computing, net and data storage resources). Since the operational resource intensiveness of applications and data can be substantially higher than the designed intensiveness, the options of further performance improvement were included in DPC to enable its enhanced productivity and reliability. Besides, the DPC architecture is characterized by high level of withstandability.

The DPC software and hardware is based on net-centric computing technology, in which the main functions, solution scalability and reliability are provided by central servers united in a corporative data center. The client sites provide only for access to informational resources via standard and widespread protocols (like HTTP/HTTPS).

The construction of DPC involved server IBM P-series equipment and APC Infrastructure continuous powers supply system.

The data processing center is equipped with a system of automatic gaseous fire suppressing system uses the substances that bring no harm to the system's electronic components.

As DPC technological equipment is very sensitive to minimal fluctuations of temperature and relative humidity, Stulz precise conditioning systems were used to create the necessary micro clime in the premises. They provide for effective compensation of substantial relative heat access and allow supporting the necessary air temperature and humidity parameters.

In order tom provide the DPC security it was equipped with a system of video surveillance. It includes 5 TV cameras (TVC) of digital image and can integrate all security components of the site of any degree of complexity - video surveillance and access control systems, fire security alarm, alerting service.

Creation of common catalogue service and corporative e-mail system Modernization of local computer network
Solutions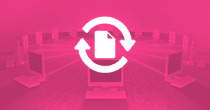 High Performance Computing Systems
Services