Creratiion of engineering infrastructure for a data procesing center

Client:
Kopeyka
Open Technologies, Russian system integrators, announced about completion of engineering infrastructure project in Kopeika Trade House.
Due fast company's growth Kopeika TH had to build a new data processing center in downtown Moscow for locating the main informational systems required by the customers. The project began with DPC engineering infrastructure, which provided for the necessary level of reliability and availability of corporate information services.
It contacted Open Technologies, with its reach experience in similar projects, to build the engineering infrastructure.
The specialists of system integrator inspected the existing server premises of Kopeika TH, prepared a design solution,m s supplied, assembled and commissioned the equipment.
In compliance with the decision, the following engineering systems were assembled in data processing center:
System of general and continuous DPC supply. It was built on 2 Powerware 9355 UPS, with 2N reserve scheme, cable distribution network, shield equipment and automatic load transfer equipment;
Air conditioning system. In order to support the necessary climatic conditions the precise Stulz conditioners of CyberAir CSD series were use. They had a 2N reserve scheme adapted to operation in Russian conditions;
System of gaseous suppression based on ARTSOK and Schrack-Seconet equipment.
Special hollow floor produced by Jansen was assembled as well.
The project was carried out in short terms. In order to meet the terms the assembly of all engineering systems was done simultaneously. The job was complicated by the conditions of limited site, meant for deployment of power supply system.
As a result, the complex of engineering infrastructure installed in the building, allowed deploying a new center of data procession corresponding to the American TIA/EIA 942 standard.
"There are numerous outside factors influencing the operational quality of computing resources. A high priority should be given to to negative impacts of environment and human factor. The produced DPC engineering infrastructure guarantees failure proof operation of computer systems of the trade house, as its construction involved a wide number of high-tech solutions, which form a a sophisticated engineering complex", said Alexander Anosov, head of engineering systems department at Open Technologies.
According to Sergey Titarenko, deputy IT director of Kopeika TH OJSC, "DPC is not just a computing facility, but also premises, engineering system, security systems. All these components are extremely important in construction of the computer center. That is why we give a high priority to performing these types of jobs. As a result, we received a stable foundation guaranteeing the reliable work of the future DPC".
Modernization of data processing center Creation of corporate data transfer network
Solutions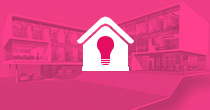 System in the field of efficient processing
Services