Billing system modernization

Client:
Izhsviazinvest
Open Technologies, Russian system integrator, announced about the completion of billing system modernization in Izhsviazinvest LLC (The Ninth Mode).

Izhsviazinvest LLC (The Ninth Node) uses a billing system of its own development based on Oracle DBMS for issuing invoices to the clients and accounts with services suppliers. CaminoSoft HSM.

With regard to business boom (sharp rise in the number of clients and expansion of services), the company' server failed to provide the necessary level of system operation. That is why a decision was taken to build a fail-active cluster that would raise the productivity and reliability of the billing.

Open Technologies received an opportunity of performing these works after winning a closed tender having offered the most profitable conditions of cooperation to the customer: equipment with the best technical characteristics, reasonable price, the experience of its specialists

During the project the personnel of the system integrator's Perm office installed and ranged the equipment, organized the selected disc sub-system, built Oracle SDBM cluster on the basis of Oracle Real Application Cluster (RAC) and tested it for productivity and fail withstandability. After that the system was commissioned and taken for service support according to Silver program of Open Technologies service center.

The Oracle DBMS cluster nodes were built by means of 2 Sun Fire T2000 servers with 8-core UltraSPARC T1 and ОС Solaris 10 processors, a disc array Sun StorageTek 2540 was used to create the reserved disc subsystem
Among the peculiarities of the proposed solution attention should be paid to the possibility of scaling the billing system. It is achieved by adding additional nodes into the Oracle RAR cluster and distributing load between them. The disc capacity can be increased by switching additional disc shelves to the installed array.

"The use of fail-active cluster allowed Izhsviazinvest LLC enhancing the reliability of data storage, cutting the time of billing system downtime and creating an opportunity for server maintenance and repairs without breaks in supplying services to subscribers", said Andrey Sozykin, Technical Director of Perm Office of Open Technologies.

Development of the reserve computer center of corporate information system Data transfer network
Solutions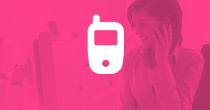 Communication and teamwork
Services